Best Sex Toys Kit for Couples
Sex toy kits are a great addition to any sex toy stash, whether you are single, a couple, a triple or more. With some kits containing a variety of vibrators, whilst others lean towards bondage. You can bet we have something here for everyone, including every taste and every pocket.
What is a sex toy kit ?
A sex toy kit is a collection of multiple different sex toys in one package. This gives the user a wider variety of options when exploring their fantasies. Sex toy kits are perfect for people whom aren't entirely sure what they want. They're pretty much a pick and mix for sex toys!
Sex toy kits are a great way for beginners to start experimenting with their partner, as the kits come with a range of different sex toys. This gives you the perfect insight into what your sexual preferences are and how they can be enhanced with the use of sex toys.
Different types of sex kits
There are multiple types of sex kits that cover a wide range of fantasies, fetishes and romantic desires. The containments of a sex kit offers the user a choice of a style of sex toys, such as bondage, vibrators, clitoral stimulation, anal play, romance and much more.
Romance couples' sex kits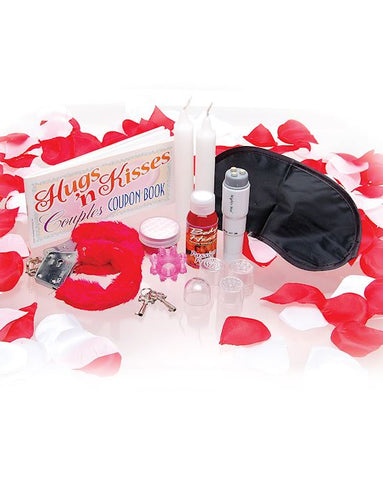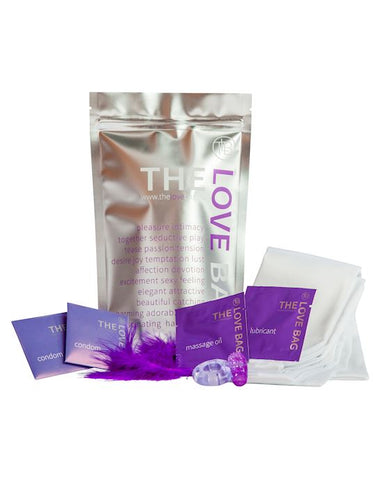 If you're completely new to the wonderful world of couples' sex toys, romance sex kits are a great place to start. A romance sex kit is suited for those looking to spend an intimate night with their partner with all the essentials they would need to make their night special.
The containments of a romance sex kit are beginner friendly and generally non-intimidating. For example, The Sex Therapy Kit For Lovers includes a cock ring, candles, rose petals and furry handcuffs, making it a great choice for those looking to get romantic. If your desires are more conventional, The Love Bag is a discreet package which fulfils all your basic needs for an intimate night.
Bondage couples' sex kits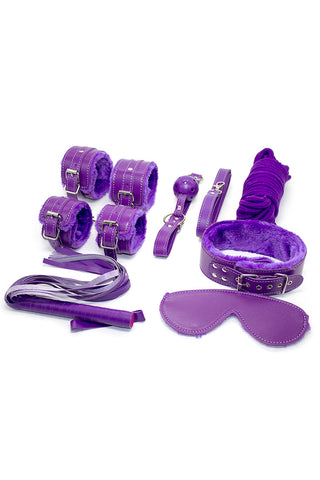 When you think of an intimate night with your partner do you picture whips, ties and chains? If the answer is yes, a bondage couples' sex kit is the perfect arsenal to fulfil your fantasies.
The containments of a bondage sex kit can vary widely depending on the fetishes and fantasies they aim for. Purple Plush Bondage Kit 7pc Set is the perfect tool for beginners to turn their bedroom into an erotic playground. If you're looking for a kit that better fits your specific bondage needs, Purple Plush Bondage Kit 7pc Set contains a wide range of bondage products that is sure to meet your needs.
Anal couples' sex kits
If you and your partner are exploring new territories or simply looking for the best of both worlds, an anal couples' sex kit is perfect for catering to couples looking to experiment with anal play.
The Black Silicone Anal Plug 3pc Set includes a combination of 3 anal plugs that will leave you satisfied in compartment.
Like concerning most sex toys, its particularly important to use plenty of lube for anal play as it's a necessity!
Vibrator couples' sex kits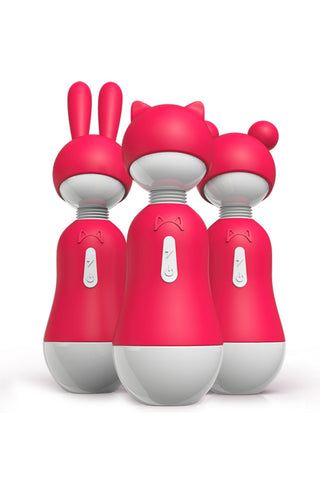 Everyone has their own preferences on what they like, if vibrating is the soft spot for your soft spot then a couples' vibrator sex kit is perfect for you. Vibrating sex kits can vary in their sex toy content, but one things for certain - they all vibrate!
If your looking for something a bit more than just a massager, this JOKER Pocket Vibrator Wand Massager 3pc Set comes with 2 silicone stimulator attachments which each apply plenty of vibration to go around.
How to clean them!
Its important to clean your non-disposable sex toys after each use so they can last longer and keep living up to the satisfaction. The articles below offer in-depth information about safe sex toy cleaning and storage.
READ MORE: