10 Sex Toys Especially Relevant to Your Lesbian Sex Interests
Whether you identify as lesbian, queer, non-binary, bisexual, or literally anything else, welcome to the land of sex toys specific for pleasuring you, your vulva, and your vagina.
Maybe you want to play by yourself, maybe you want to share these with a partner. But whatever (or whoever) you feel like doing, there are a million awesome sex toys out there that will rock your world and spice things up inside (or outside) or the bedroom.
Adjustable Universal Master Body Harness
It's not to say that all couples with vulvas enjoy penetrative play, but for those who do, having a solid strap-on set, which should include a harness and dildo, is essential to a complete toy box. Into it? Start with the functional harness, like the Adjustable Universal Master Body Harness, and pair it with either a realistic dildo or a non-realistic vibrating dildo.
MizzZee Thrusting G-Spot Wand Massager
MizzZee Thrusting G-Spot Wand Massager is *super* quiet—aka ideal if you have roomies—and when it's vibing, it comes with a "clitoral flutter" attachment so you can get alllll the clit stimulation.
Wearable Remote-Control Panties Vibrator
Have you ever been out to dinner and thought to yourself, Wow, it would be really hot it if my partner could magically stimulate me from under the table without anyone knowing? Welp, dreams do come true: Slip the vibrator into panty, and hand off the control to your partner…then go out in public and enjoy your naughty little secret.
All-in-one Bondage Play Kit 13pc Set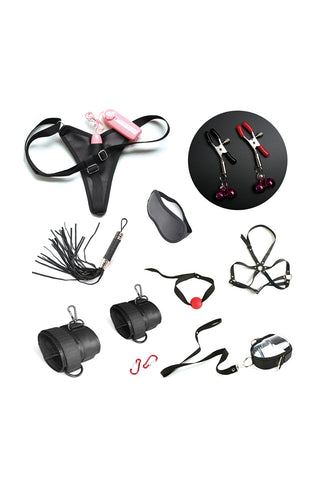 The product name literally speaks for itself. This 20-piece kit has everything you need to live out your first-time bondage dreams, including a collar, nipple clamps, panty, wrist and ankle cuffs, and more.
Double-ended Super Jelly TPE Realistic Dildo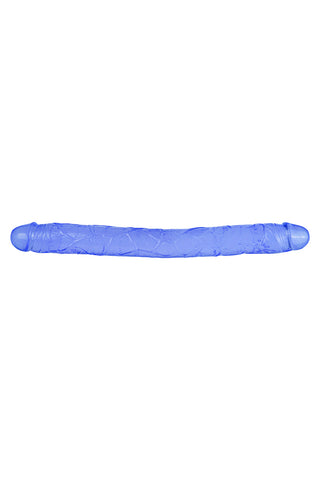 This double-ended dildo with 15 inches and two heads will make playtime for you and your partner a joined effort…or it'll just please out of you if you're more interested in keeping it all to yourself.
Textured Penis Extender Sleeve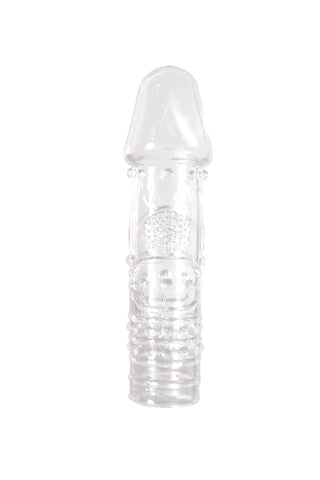 See, this is technically a penis extender. It's meant to add some length and girth to your tool for an enhanced experience. However, a lot of them have a small enough width that allows them to be used with fingers instead of dicks, as well.
This one's made out of a stretchy material that accommodates different girths, regardless if you want to use it on two fingers, for example, on a dildo, or on a dick. The shape is nice and dick-like for that extra stimulation with the head, and it's nubby to stimulate your clit!
KISS TOY Polly Plus Rechargeable Smart Heating Clitoral Stimulator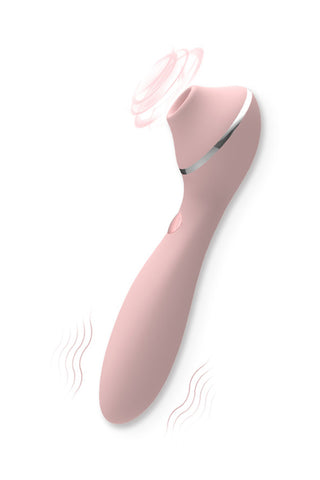 If intense sensations are what your partner is looking for, then you might be interested in buying what this toy is selling. Using some novel technology, the KISS TOY Polly Plus can take care of her business while you work on…other business.
Ass, vagina, tits, mouth – come on, I don't have to teach you these things. Think of the heights of pleasure you can reach by having this thing stimulate your clit while being fingered at the same time.
Silicone Double Bullet Vibrator Pink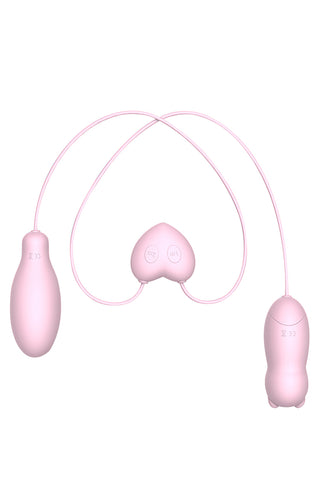 Maybe you're familiar with bullet vibes and love eggs, but what if you could have them together? One remote control, two different toys you can swap out and power up.
We know that pussies have different tastes (that does work with multiple meanings, doesn't it?) and needs, and that some prefer external stimulation with bullets, while others would rather have a love egg to wear on the inside.
You and your partner can have the best of both worlds and everyone gets what they want from this Silicone Double Bullet Vibrator.
DIBE Remote Control Rechargeable Clitoral and G-Spot Vibrator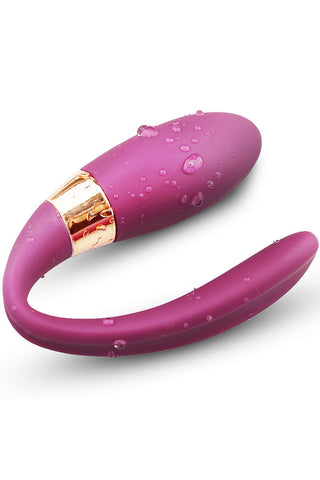 The advantage of this toy is that it's designed to be used in a coupled setting, so there is no awkward fumbling or wasting tons of time trying to make it work. This toy has a dual purpose of stimulating the G-spot with the internal component and the clitoris with the external component.
While only one partner actually wears the toy, both partners can enjoy the external vibrations. Heterosexual couples can use it as well, but it works so much better when both partners are female, as it stimulates 1 G-spot and 2 clits. Talk about 2-in-1!
That allows you to play with 7 vibrating patterns, remote control works at a range of up to 12 meters, or allow your partner to do it.
MizzZee Auto Thrusting G-Spot Rabbit Vibrator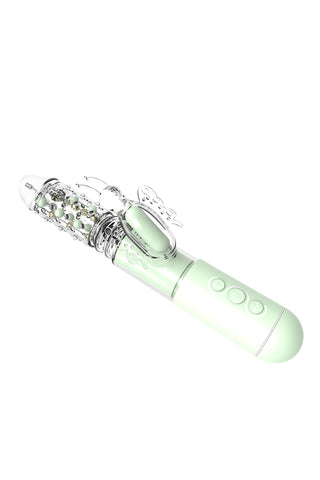 The only "man" you need in your bedroom is Mr. MizzZee, ribbed for your pleasure and vibrating, this toy can add some much-needed spice to your sex life. This is a classic sex toy.
I wonder if this is what people refer to when they talk about being an "animal" in the bedroom.And speaking of the animal, the rabbit ears are the special feature here, as they stimulate your clit and your partner's, depending on the position.